BEST SUMMERSLAM MATCHES OF ALL-TIME
By: Michael Schwartz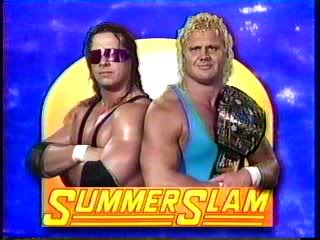 1991 Bret Hart vs. Mr. Perfect (Intercontinental Championship)
1992 Bret Hart vs. British Bulldog (Intercontinental Championship)
2000 Edge and Christian vs. The Dudley Boyz vs. The Hardy Boyz (Tag Team Championship; TLC)
1995 Shawn Michaels vs. Razor Ramon (Intercontinental Championship; Ladder Match)
1994 Bret Hart vs. Owen Hart (WWE Championship; Cage Match)

1998 The Rock vs. HHH (Intercontinental Championship; Ladder Match)
2000 Chris Benoit vs. Chris Jericho (2 out of 3 Falls)
2002 Shawn Michaels vs. HHH (Unsanctioned Street Fight)
1997 Stone Cold Steve Austin vs. Owen Hart (Intercontinental Championship)
1997 Bret Hart vs. The Undertaker (WWE Championship; Special Guest Referee: Shawn Michaels)

1999 Mankind vs. Stone Cold Steve Austin vs. HHH (WWE Championship; Special Guest Referee: Jesse Ventura)
1989 Rick Rude vs. Ultimate Warrior (Intercontinental Championship)
1998 Stone Cold Steve Austin vs. The Undertaker (WWE Championship)
1990 The Hart Foundation vs. Demolition (Tag Team Championship; 2 out of 3 Falls)
2001 Stone Cold Steve Austin vs. Kurt Angle (WWE Championship)

2000 The Rock vs. HHH vs. Kurt Angle (WWE Championship)
1999 Shane McMahon vs. Test (Greenwich Street Fight "Love Her or Leave Her" Match)
2002 Brock Lesnar vs. The Rock (WWE Undisputed Championship)
1996 Shawn Michaels vs. Vader (WWE Championship)
2001 Rob Van Dam vs. Jeff Hardy (Hardcore Championship; Ladder Match)

2003 HHH vs. Goldberg vs. Chris Jericho vs. Randy Orton vs. Kevin Nash vs. Shawn Michaels (WWE Championship; Elimination Chamber)
1993 The Steiner Brothers vs. The Heavenly Bodies
1996 The Undertaker vs. Mankind (Boiler Room Brawl)
1992 Ultimate Warrior vs. Randy Savage (WWE Championship)
1997 Mankind vs. HHH (Cage Match)

_____________________________________________________________________________
RANKING EVERY DIVA ON THE CURRENT WWE MAIN ROSTER
By: Eron Ramadanov (Follow on Twitter @EronTSM)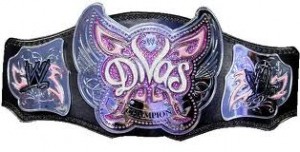 As we put 2013 in the books, and put it behind us, it set up something for the Divas division that hasn't been there for years. That thing is interest.
For the first time in a long time, there is some actual interest within the WWE Divas division. People care to a certain extent and have put the Divas division higher on their cares list than in previous years.
That is due to the fact that WWE has aired a new reality show starring several of the current Divas that will be on this list, and the extremely long title reign of AJ Lee, who is track to be the longest reigning Divas champion in the history of WWE. These two things have repaired the Divas division for now, but I think everyone is in agreement that the division is much better off than a couple of years ago.
So now that I've done all I can do to convince you that this article is worth reading. Here are my rankings and opinions on each of the current WWE divas on the main roster:
#13. Eva Marie
     Even though we haven't seen a lot of in-ring work from this rookie Diva, she has made an impact within the division, and has been able to invoke a reaction from the WWE universe that isn't positive. Many fans believe she isn't a wrestler, but nothing more than a piece of eye candy, that can't hold her own in the ring. Those people are exactly right. She isn't ready for in-ring action, and needs a lot of work in the ring. But in all fairness, many people thought the same of WWE Hall of Famer, Trish Stratus when she first started in WWE. She was looked at as a model, and not a wrestler.
But with time and work, I think Eva Marie can become one of the biggest stars that division has ever seen. She has a unique look, and she is drop dead gorgeous. He has a good sense for the crowd, and I think she handles the hatred from the fans with a lot of poise, which shows that she can handle the crowd in a live situation.
As of this moment, she is last on the list because she just hasn't been in the ring long enough for me to know if she is good or not. I know she has a lot of potential, but that will only get you so far. Eventually, she will have to show the true wrestling fans, what she's got. Hopefully she'll be really for that moment.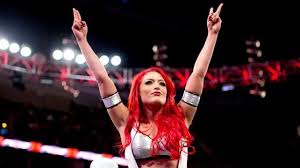 #12. Cameron
     When it comes to wrestling in the ring, Eva Marie and Cameron aren't to far off as far as experience and ability in the ring goes. Cameron made her WWE debut on the reality show Tough Enough, where rookies fight for a contract to work for the WWE on the main roster. Cameron was on that show, and made her way to the WWE, even though she didn't win.
Her in ring work isn't great, and she is still a bit green when it comes to working a long match. She tends to look awkward, and even lost at times when in the ring, but she has a good look, she is very good looking, and has the charisma to save her own character by being involved in the Total Divas reality show, where we saw more of her personality, and we got to see her outside of the ring. I think Cameron would make a good valet, or manager. She can talk good enough to be something like that, but I don't see a long career for her.
She has to work on her wrestling, instead of working on her makeup or outfit. She needs to focus on being a good worker, and being able to last longer than 2 minutes in a match without making a mistake.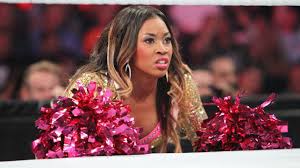 #11. Alicia Fox
     She has been on the roster for a bit now, and is even a former WWE Divas champion, but her skills have declined over the years, and creative has kept her out of main storylines on WWE television. She is actually the classic case of: it's easier to keep her, then re-train someone else, and replace her.
Recently, she has made several appearances on NXT, and she has been able to put on great matches down there, but when she comes on the main roster, she hasn't delivered the same type of matches.
She has a good look, but her charisma isn't there, and her mic skills are below average. But she has been able to last for a while, and she has become a veteran in the locker room as far as today's divas go.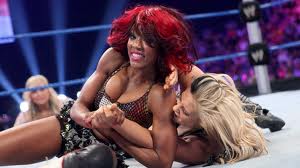 #10. Rosa Mendes
In her humble beginnings in WWE, she started out being the valet for former Tag Team Champions, Primo & Epico, who have mysteriously disappeared…
Since then she has been floating around the division, with really no purpose as far as her character goes, and has gone through some rough patches in her personal life with alcohol. Since then, she made her return, when she was somewhat thrown into the Total Divas vs. True Divas feud, where we have seen her make minor appearances. I placed her at number ten due to her ability to be a good manager, and get good heat, especially when she yells at the crowd in Spanish.
I always thought it would be a good idea to pair Rosa Mendes up with Alberto Del Rio. ADR can't get a reaction from the crowd, and Mendes would be able to evoke some type of response from the WWE fans.
Overall, Rosa Mendes is a good talent, just not being used the right way, like most WWE talents.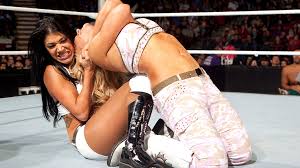 #9. Layla
     This former Divas champion has become a veteran in the locker room for the younger Divas, and has been with the company for almost 10 years, she has been able to create a spot for her, where WWE feels like they need her within the Divas division.
She has really done it all as far as achievements go as she is a Divas and Women's champion. In the ring, Layla is a good wrestler, and has the ability to get physical with her move set, which she was very weak on early in her career. She is a tough woman, but her mic skills and charisma lacks as a face, but she did some of her best work with Michelle McCool. They had so much heat, and I thought they use to do a great job of making face Divas look really good like Kelly Kelly.
In the overall picture, Layla has become a veteran, and deserves respect for being with WWE for almost 10 years as a performer.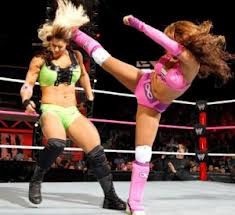 #8. Nikki Bella
     Even though the Bella Twins are looked at as just reality stars, using WWE as a platform for other things, other sisters have gotten a lot better in the ring. Nikki has gone from a green diva, that can't do more than two moves in a row, from being able to put on good matches, and be able to pull out a couple of moves that you walk away from being somewhat impressed.
Some have said that weight is a problem for Nikki, but I disagree. Personally, I like the way Nikki looks, and think she has a nicer body than her sister. Nikki has made serious strides into becoming one of the best on the roster, and without a doubt one of the most improved. She went through a major injury in 2013, which caused her to be out of action for a long period of time. She is back 100% percent now, and I hope she will continue moving up the wrestling ladder.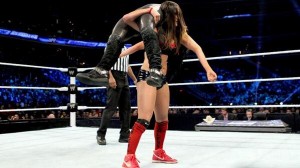 #7. Tamina Snuka
     The daughter of Hall of Famer, Jimmy Snuka has made some big strides in becoming one of the biggest and most intense Divas in a long time. She has a good look for a Diva, and has the genes to be great for WWE.
She is currently working with AJ Lee as her bodyguard, and has really impressed in that role so far. When she was on her own, her mic skills and charisma were lacking, but in this role, she has little to no talking at all. I expect Snuka to eventually be the one to take the title off of AJ Lee, but that might be down the road.
She is one of the most talented in the ring, and her Samoan Superkick is nasty. She is a true talent, and I think she is one of the best divas on the main roster right now.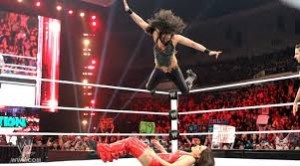 #6. Summer Rae
     The long legged blond beauty made her debut in WWE, when she appeared with WWE Superstar Fandango. She has gone from no-name dancer, to one of the best Divas on the roster.
Her work in NXT has been tremendous, and is slowly becoming one of my favorite divas in WWE right now. She has an amazing ability to work a match with poise and patience. Even though she's a rookie by WWE standards, but she is actually already 30 years old. For someone whose only been in wrestling for about 3-4 years, she is already one of the best talents for the future.
Her mic skills are top notch and she has a world of charisma. Hopefully we see Summer Rae get a push in 2014, and I'd like to see her as the Divas Champion in the near
future.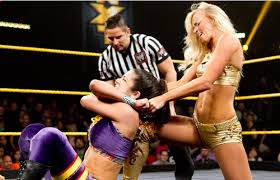 #5. Aksana
     Probably one of the most underrated Divas on the current roster, Aksana has gone from a joke, to being one of the most improved Divas on the roster. The former body builder has seen a little more TV time, and some wins over the Bella Twins in recent weeks.
Her in ring abilities have improved significantly, and she has mastered her craft. She is physical and her move set is very powerful. Similar to Summer Rae, Aksana is in her 30's, but it looks like she might be getting some more air time, and some more wins on WWE TV.
Aksana has gone from being in a silly storyline with Goldust, to being taken seriously by WWE fans, and I hope WWE uses her talents well over her career.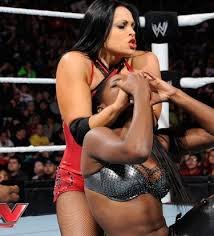 #4. Naomi
     From the NBA's Orlando Magic's cheerleaders, to being on WWE RAW and a reality show, Naomi has made it to the top of the division, but not only because of her work on the reality show, but her work in the ring.
She is slowly becoming one the bright spots of the future as far as the Divas are concerned, and it looks like we might see Naomi get a shot at the Divas title in the near future. Her wrestling has gotten really good, really fast. She is the strong one out of the pair, and she has developed into one of the best in ring workers in WWE. She hasn't really been able to express her charisma or personality on WWE TV yet, so I can't comment on her mic skills, but she is a promising diva for the future.
After her run with the Fuckadactyls, I can see her getting a singles career, but we'll see if or when that happens.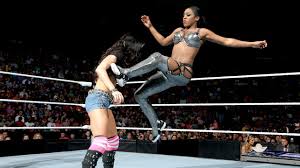 #3. Brie Bella
     Going from one of the most hated Divas in the wrestling community, to then slowly becoming an IWC sweet heart, Brie Bella has become one of the best wrestlers on the roster, and not just for Divas, but for the guys too. She has come back, and has improved in the ring to the point where she might be the second best wrestler in the division.
Considering how far she's come from being nothing more than just a piece of eye candy, Brie Bella has become one of my favorite Divas, and I think she has separated herself from her sister, and other divas on the roster.
I can see Brie getting a Divas title run in the near future, and I think she deserves one based on the hard work she has put in to get better in the ring.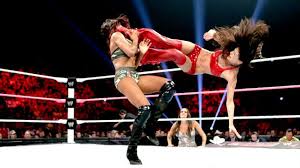 #2. Natalya
     Different from most divas on the roster, Natalya comes from a long-history of the Hart Family, and I think she has had to work extra hard to get where she is today. I said above, that Brie is the second best wrestler on this list; well Natalya is number one when it comes to putting on a great match.
She is probably the most technically sound female in WWE history, and she doesn't get the props she deserves for how good she really is in the ring. I will agree that her mic skills and charisma isn't up to par, but they are good enough to have her featured more than she is. She has a tough move set, and pulls off moves that some guys can't even dream of doing.
Even though she is number two on this list, she should probably be #1, but her inability to speak and make her character interesting is a problem, and that might be the biggest reason why WWE don't place her into the star spotlight. It's sad because she is really good, and deserves so much better than what she gets sometimes.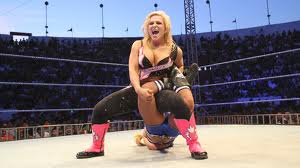 #1. AJ Lee
     As of this writing, AJ Lee has become the longest reigning WWE Divas Champion of all time. For over 200 days, she has defeated all in her path, and continues her reign as the face of the division. Lee has become the internet sweetheart, where the "IWC" love to make her out to be the savior to the division, which some of that is true, but to be honest… Her matches aren't great. Sometimes, they are actually pretty bad.
Granted, in the Divas division, the wrestling is behind other things, but if she wants to be remembered as "great", she has to improve in the ring. Her mic skills and her storytelling in the ring are almost unmatched, and she is probably the most entertaining diva from a character point of view in a really long time. She plays the crazy chick so well, and I think she is doing a great job as champion.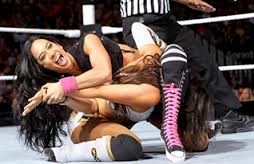 Here's to another 200 days…
_____________________________________________________________________________
The Top Ten 30-Man Royal Rumble Winners In WWE History
By: Lorenzo Dozier (Team Awesome owner)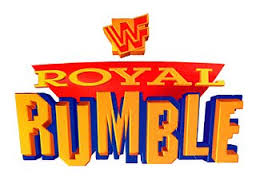 10) Vince McMahon (Royal Rumble 1999):
– Vince McMahon is the chairman and CEO of WWF/WWE. No one would have ever guessed that "The Boss" would become a number one contender for a championship at WrestleMania. What made his Royal Rumble win special is that he became the first man in history to voluntarily vacant his spot to compete for the WWF championship. His decision was allowing a runner-up to take on the WWF champion at WrestleMania. Who was the champion around this time? "The Most Electrifying Man in Sports Entertainment" The Rock. The Rock was a corporate champion, representing Vince McMahon. On the road to WrestleMania, "Stone Cold" Steve Austin wanted his hands on the chairman one more time before taking on The Rock. The match would take place inside a steel cage match at St. Valentine's Day Massacre. This was the event where Paul Wight aka The Big Show made his WWF debut. A fun fact about WrestleMania XV between Stone Cold & The Rock, this was the first of three WrestleMania matches that these two would have in the next several years to come. Arguably the greatest rivalry known to the Attitude Era.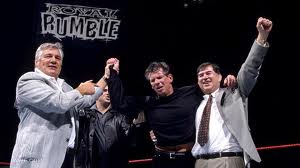 9) "Hacksaw" Jim Duggan (Royal Rumble 1988):
– Jim Duggan won the very first Royal Rumble match held at the Copps Coliseum in Hamilton, Ontario. The final two men were Jim Duggan and One Man Gang. Bret Hart was entrant number one at this event. He will always be remembered as the first man to ever compete in the Royal Rumble match. One thing to always remember, winning the Royal Rumble doesn't always guarantee you a shot at the WWF championship. Unfortunately for "Hacksaw", he never won a WWF championship in his career. The aftermath of Royal Rumble 1988 lead to Andre the Giant becoming the shortest WWF champion in history. The reason why is because after crossing paths with Hulk Hogan at The Main Event, Andre went off to selling his championship for a large amount of money.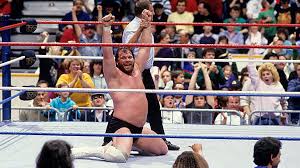 8) Triple H (Royal Rumble 2002):
– Triple H returned from injury back in 2002 and won the Royal Rumble. Take a guess who was champion around this time? The first Undisputed WWF Champion, "Y2J", Chris Jericho! Feuds taking place after the Royal Rumble were Triple H Vs. Kurt Angle and Chris Jericho Vs. Steve Austin. Stephanie McMahon at the time was escorting Chris Jericho to the ring with his two championships. Triple H went on to WrestleMania X8 to become Undisputed WWF champion. Triple H being champion lead to several aftermaths. One, removing Stephanie McMahon from the company. Plus the arrival of the World Heavyweight championship at a later date. Hulk Hogan also became champion after Triple H. WWF changed their WWF championship in to the WWE Undisputed championship once he held the strap.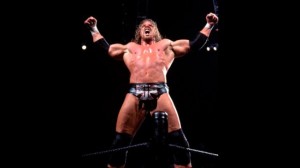 7) Yokozuna (Royal Rumble 1993):
– A short but sweet comment on Royal Rumble 1993. Yokozuna won this event giving him the right to take on Bret Hart at WrestleMania IX. A fun fact about WrestleMania IX, it was the first event held outdoors. The late Yokozuna may have bragging rights over holding the WWF championship, but his reign did not last long. Hulk Hogan came out and "took" that moment of fame from him in front of thousands.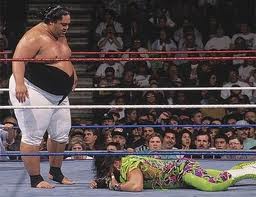 6) Hulk Hogan (Royal Rumble 1990, 1991):
– Hulk Hogan is the first of four multiple Royal Rumble winners. He won both 1990 and 1991, making him a back-to-back Royal Rumble winner. Interesting to note, the WWF championship was not on the line at this event. Instead, Hulk Hogan was the current champion competing in the Royal Rumble match. He eventually went off to WrestleMania to take on Ultimate Warrior in a title unification match. The Intercontinental championship was on the line. Ultimate Warrior defeated him at WrestleMania VI to become the WWF and Intercontinental champion. Later down the line, the Intercontinental Championship was vacant.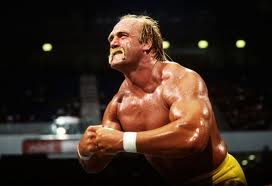 5) Brock Lesnar (Royal Rumble 2003) & Ric Flair (Royal Rumble 1992):
– TIE between Brock Lesnar and Ric Flair. Royal Rumble 1992 was special. The first Royal Rumble to ever have the WWF Championship on the line. 30-men would battle out to hold the prestigious championship in the company! Ric Flair made that dream possible. This lead to a historic feud between Ric Flair and Randy Savage. Oh Yeah! As for Brock Lesnar, winning the Royal Rumble in 2003 lead him to winning his second WWE championship against Kurt Angle. He had a great resume at the time, dominating the main roster including the likes of Undertaker!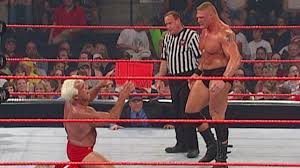 4) Rey Mysterio (Royal Rumble 2006):
– November 13, 2005 was a dark day in pro wrestling history. The late Eddie Guerrero passed away. Rey Mysterio dedicated his appearance to his beloving friend Eddie. Rey Mysterio holds the spot for being in the Royal Rumble for the longest. Defeating previous long runner spot, Chris Benoit with 1:02 H/M in the ring. A WrestleMania XXII, Rey Mysterio won the World Heavyweight championship. This actually open the door for cruiserweights on capturing the World Championship in the future.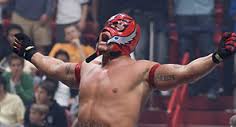 3) Chris Benoit (Royal Rumble 2004):
– The late Chris Benoit won the 2004 Royal Rumble. What made this event special is not only being the original longest Royal Rumble winner until Rey Mysterio came long, but winning the Royal Rumble as entrant number one. He would go off to WrestleMania XX defeating Shawn Michaels and Triple H to become World Heavyweight champion. An iconic memory many of us will always have at WrestleMania XX is seeing Eddie Guerrero and Chris Benoit holding their rightful championship belts. Celebrating in happiness of two friends living a WrestleMania moment.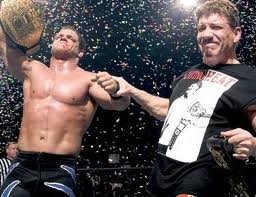 2) The Undertaker (Royal Rumble 2007):
– The Undertaker's Royal Rumble victory is one of the most historic victories in Royal Rumble history. Why is that? He was the first to win at number thirty! Royal Rumble 2007 foreshadowed several possibilities. A future Shawn Michaels Vs. Undertaker match at WrestleMania XXV, which was arguably one of Undertaker's greatest matches in WrestleMania history. It also foreshadowed a possible match between him and John Cena. On the night he was given the opportunity to choose an opponent. What happened if he didn't pick Batista? Many fans wonder why hasn't Undertaker vs. John Cena at WrestleMania happen yet.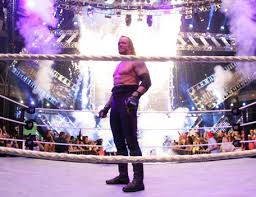 1) Shawn Michaels (Royal Rumble 1995) & Steve Austin (Royal Rumble 1997):
– TIE between Shawn Michaels and "Stone Cold". Steve Austin has won the most Royal Rumble's in history. Shawn Michaels comes in second place winning back to back Royal Rumbles. Who deserves to be number one in your opinion? Share your thoughts. Let's just break down statistics. Steve Austin cheated to win his first Royal Rumble. After being "eliminated", the referee did not see him go back into the ring. This begun the start of a historic feud between Bret Hart and Steve Austin. Shawn Michaels winning the Royal Rumble on several occasions were unique in their own ways. At Royal Rumble 1995, Shawn Michaels won at entrant number one. At Royal Rumble 1996, he did it again. Let's not forget, this man has bragging rights for the most eliminations of wrestlers (39) at the Royal Rumble.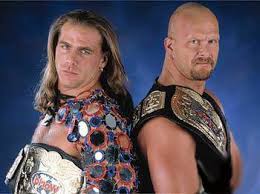 Who didn't make the cut but deserves a mention? Edge making his Royal Rumble return in 2010. John Cena returning back in 2008, becoming the second man in history winning at entrant number thirty. The Royal Rumble 1994 between Bret Hart and Lex Luger. Lastly Alberto Del Rio! Del Rio won the biggest Royal Rumble in history, 40-men. 

Last but not least, let's not forget an important wrestler who deserves to win a Royal Rumble match before his career is over, Kane. Kane has eliminated the most men in a Royal Rumble match (11 in 2001). Everyone can easily bring up Royal Rumble 2001. Shortest Royal Rumble participant is Santino Marella (1.9 seconds in 2009). The only females to participate in the Royal Rumble are Kharma, Chyna and Beth Phoenix.
Team Awesome
Facebook: www.facebook.com/TeamAwesome418
Twitter: www.twitter.com/TeamAwesome418
_____________________________________________________________________________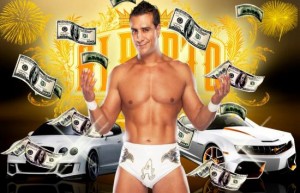 Gimmick Enhancer – Alberto Del Rio
11/04/2013
"Hey Yo", (Tooth Pick Flicked At My CPU). To all of my fellow mark's out there in the I.W.C., my name is TheManndo aka @TheManndo – Shameless Plug and I am proud to announce that I am one of "Youuuuuu" (insert Hogan pointing at his opponent). I have been a proud "Out of the Closet" wrasslin' fan since the mid 1980's and at the ripe young age of 34 yr's old I have decided to take a swan dive into the art of writing a wrestling column. I pride myself on being entertaining and I believe that you'll be entertained by my unique perspectives on the wrestling business. My gimmick will only be around as long as I have an audience who reads, so hopefully I do a decent job. If not, I will have the Markin' Out team call me to the ring and scream "You'reeeeee Fireeeed".
Today's column is titled "Gimmick Enhancer" because I have some thoughts on how to "Enhance the Gimmick" (see what I did there?) of Alberto Del Rio. His in-ring talents are clearly top notch and he can work superb matches with just about every opponent he faces on the current WWE roster.  It seems to me however, that something is missing outside of the ropes.  He is missing the "IT" factor that makes his promo's and gimmick the complete package to his overall wrestling ability. What is this Gimmick Enhancement that TheManndo speaks of? Here's a solid clue… "Everybody's Got A Price".
Before Alberto Del Rio debuted several years ago on Smackdown, we were treated to several weeks of entertaining vignettes (one of my favorite words in the English dictionary) from his mansion in Mexico.  Del Rio was being portrayed as an extremely wealthy Mexican wrestler who was full of honesty and integrity. His signature wink ; ) would tip off the SMARKS that he would be  a HEEL upon his debut.  It started out very successfully, yet slowly but surely the WWE had deviated from the original formula. It has resulted in an above average performer otherwise these days known as an "A+" player, who currently has a below average gimmick. The Mexican Aristocrat GIMMICK needs ENHANCEMENT immediately and here's how you do it.
Now that Del Rio has lost the World Heavyweight Championship to Super Cena,  they should take him off camera immediately.  This can be accomplished by having a simple promo about how he is heading back to a "real country" Mexico – because he is sick of being in America.  Let a few weeks go by and allow him to be forgotten.  As December rolls around, we should be teased with vignette's (What a word!) and clues of a returning wrestler.  These clips should be very subtle and show kids, adults and families in various situations where they are trying to earn a dollar.  In the background as a teaser and clue, just include the sound of Alberto Del Rio laughing!  As the weeks roll on, do not reveal his face. Instead, show Ricardo Rodriguez with wad's of cash, propositioning these folks.
Now that several weeks of vignette's (vocabulary's finest word) have been aired to the WWE Universe, we should be right around the time of the ROYAL RUMBLE.  What has now happened?  Not only have we built up a solid foundation of a GIMMICK ENHANCER, we have a "surprise" entrant in the 2014 Royal Rumble! From there, the possibilities are endless.  We can have Del Rio' pay off someone for the 30th slot, or pay off a referee who is ringside and looks the other way should his feet touch the floor.  I'm not suggesting he win the Rumble, although he could…and challenge super Cena at Wrestlemania 30 for a rematch of the World Heavyweight Championship.  Regardless, he is more RELEVANT than ever because fans will now be invested in his GIMMICK.
Just imagine the possibilities on Raw that could take place ala the days of "The Million Dollar Man" Ted DiBiase and Virgil (In this case Ricardo).  You can even have him select Mexican/Latino's out of the audience so he's picking on his own people.  All it takes now is any mid-card face to disagree with his reprehensible acts to provide a challenge each week.  From Ryder to Christian, Santino or CM Punk – any feud will work because it's easy for a face to despise the GIMMICK. My only request? After Del Rio wins, he takes a Mexican $100 bill and shoves it in his opponent's mouth, only for Ricardo to snatch it out as they depart the ring – "BUT YOU ALREADY KNEW THAT"
Looking fwd to all of your feedback on my column. Feel free to follow me @TheManndo.  I will be happy to answer all questions and do some competitive debates online! Hope you enjoyed.
_____________________________________________________________________________
The Royal Ramble: The TOP 10 Hell In A Cell Matches!
10/28/2012

As always before you start reading, please respect one another in the comments section and these are my opinions so if you don't like it then tough sh*t, go complain in the comment box. Follow me on Twitter! @The_RoyalRamble
The Royal Ramble has returned as promised! I have some big news coming soon in the next few weeks involving me so stay tuned to that. Since Halloween and Hell in a Cell is right around the corner, I decided to make a top ten Hell in a Cell matches. Of course, we are going to see a lot of Triple H and Undertaker in this blog! The Hell in a Cell matches were the end of the rivalry matches for many wrestlers and they were more fights than anything! Let's get this blood bath under way
10. Undertaker vs Edge – SummerSlam, 2008
For the better part of 2008, we saw the Undertaker and Edge have a great rivalry for the World Heavyweight Championship. In a match at WWE's One Night Stand, Undertaker lost to Edge in a TLC match for the title but the stipulation was if Edge won then the Undertaker would be banished from the WWE. Undertaker went away for only to return a few months later to finish the rivalry with Edge inside the sadistic Hell in a Cell. This match was the last great and brutal Hell in a Cell in my eyes (exception WM 28). The match was just more of a brawl than a wrestling match. My favorite part was when Edge speared Undertaker threw the cell wall and then speared him threw the announcer's table. Undertaker would get the win but he wasn't done yet as he choke-slammed Edge from the top of a ladder threw the ring mat. Undertaker then posed while flames came up threw the hole where Edge was choke-slammed. Edge was sent to hell…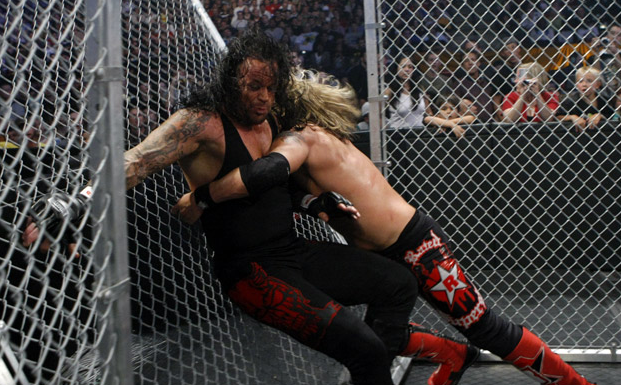 9. Undertaker vs Randy Orton – Armageddon, 2005
Hell in a Cell matches are the best place to end a very long rivalry and that's exactly what happened here. Undertaker and Randy Orton were bitter rivals for almost the entire year of 2005. So, a Hell in a Cell match was easily the best choice to end a great rivalry. The match was a bloody fight to the end and Orton had a little help from his father, Cowboy Bob Orton. For as good as this match was, their WrestleMania 21 match was still the best. Orton's cross body onto Undertaker through the table was awesome but the best was when Orton gave Undertaker a Tombstone. The move actually looked like Undertaker hit his head but he was fine. Undertaker would eventually go on to win and the rivalry was done.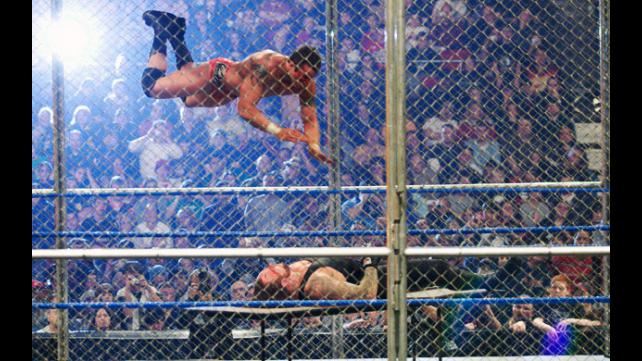 8. Undertaker vs Brock Lesnar – WWE Championship, No Mercy, 2002
Brock Lesnar was becoming the next big thing in the WWE at the time and what better way to become the next big thing than by taking out the dead man! This bloody fight was a epic tale telling the WWE is in for a world of pain! Lesnar made the Undertaker a bloody mess and took him out for awhile. After the match was over, Lesnar climbed to the top and posed with belt as if he was on top of the world as the next big thing was here to stay!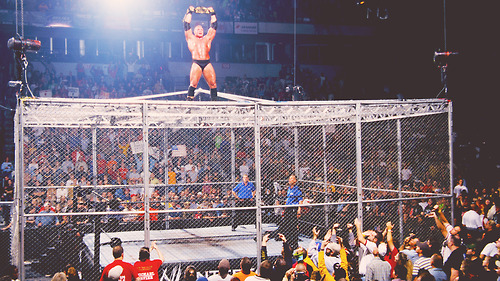 7. Triple H vs Shawn Michaels – Badd Blood, 2004
This was rivalry that lasted for about two years but it was seven years in the making! This would be the final time we saw Triple H and Shawn Michaels face each other in a high profiled one on one match! Like always these two don't disappoint! A classic match for two classic stars! HBK of course doing what he does best by stealing the show. The elbow drop off the ladder to Triple H through the table was a highlight of many. But it was the ending that was amazing. With both stars trading off with their finishers, it would be Triple H to pull out two more Pedigrees for the win!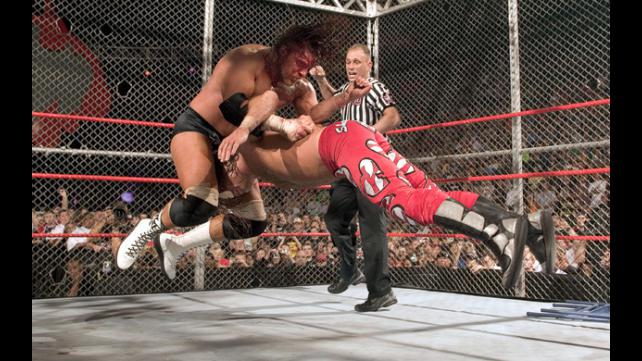 6. Kurt Angle vs Stone Cold vs Triple H vs Undertaker vs The Rock vs Rikishi – WWE Championship, Armageddon, 2000
What a way to end the year of 2000 than by having a 6-way Hell in a Cell match for the WWE Championship involving arguably the six biggest stars of the Attitude Era! Kurt Angle would get the cheap win after Stone Cold was the one that gave a Stunner to the Rock! But the moment that stole the match was Rikishi getting choke-slammed off the cell to the well placed truck with hay in it's bed. The Undertaker's facial expression after he did it was priceless with simply rolling the eyes into the back of the head and sticking his tongue out.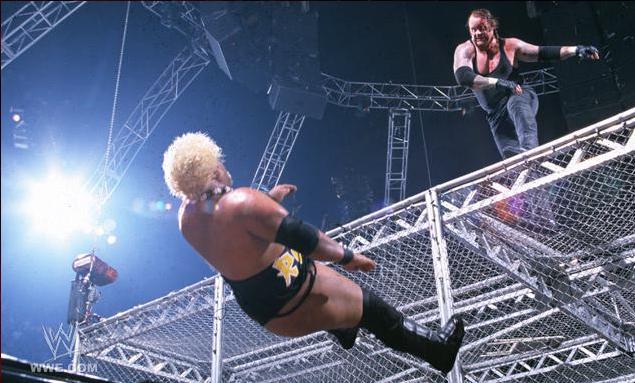 5. Triple H vs Cactus Jack – WWE Championship, No Way Out, 2000
For Cactus Jack this was the do or die! If Cactus lost he would be fired from the WWE, just one month away from WrestleMania 16! Cactus of course gave it his all. The two brawled for a while until they broke through the cell wall and they brawled onto the announcer's table. They then fought to the top of cell where they had 2×4 wrapped in barbwire with them. They would lit the 2×4 on fire and use it as a weapon. But in the end Triple H would flip Cactus through the cell roof, crashing through the mat below. Triple H would pull him out of the hole and give him a Pedigree to win the match! This would go on record as Mick Foley's retirement match!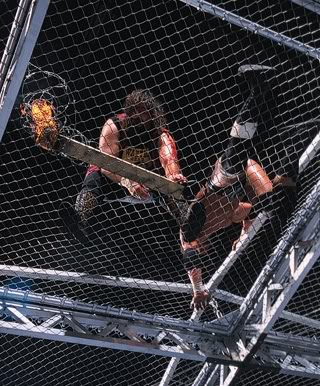 4. Triple H vs Chris Jericho – Judgement Day, 2002
I love the way this match started with two wrestlers trading lefts and rights, that's really something you don't see anymore. This match was just a straight fight, they looked like they wanted to hurt one another. Tim White, the referee, got injured due to Triple H throwing Y2J into White, who was then launched into the cell wall. The two would then fight to outside breaking through the cell door. Triple H would then DDT Y2J through one of the announcer tables. The two would fight to the top of the cell bringing a 2×4 wrapped in barbwire with them. Y2J used it on Triple H at first, then applied the Walls of Jericho on top of the Cell. Triple H would get out of it and hit Y2J with a Pedigree for the win. Still to this day, this is the most underrated Hell in a Cell match of all time!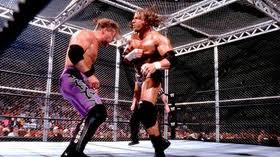 3. Shawn Michaels vs Undertaker – WWE Championship, Badd Blood, 1997 (From my Shawn Michaels blog)
One month before this match, HBK and the Undertaker wrestled at the Ground Zero PPV to a no contest. This match was a #1 contender's match for the WWE Championship and was the be all, end all match, as it was the first ever Hell in a Cell match. This would turn out to be a violent and brutal match. Undertaker would control the first half of the match as HBK looked scared of him at first. Then, HBK turned it up and took over control. HBK was thrown to the outside and hit a cameraman on his way down. Officials tried to get the cameraman out but in doing so, HBK and Undertaker started to fight there way to the outside of the cell. Undertaker would then slam HBK into the cell and HBK got busted wide open. The two then continued to fight to the top of the cell. HBK look like he was running away from and tried to climb down on the announcer's table side. As HBK was climbing down, Taker stomped on his hands and HBK fell through one of the announce tables. HBK looked to be done and they both go back into the ring. Undertaker looked like he was in line to become the #1 contender but then the lights go out. Kane makes his debut and tombstones Undertaker, thus HBK crawls over and covers Taker for the win! The following month would be infamous Montreal Screwjob and change the WWE forever!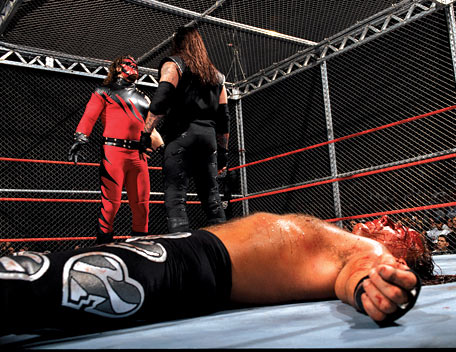 2. Triple H vs Undertaker III – End of a Era, WrestleMania 28, 2012
The final two remaining stars of an era that defined the WWE for it is today! It was time to put an end to that era! With special referee Shawn Michaels, Triple H looked to finally put an end to the streak! The match started and it was a fight to the end! This match stole the show and was quite possibly the best match in Triple H's career. There were numerous near falls and close calls but the match kept going on. Triple H would even hit Undertaker multiple times with a sledge hammer but still couldn't get the job done. HBK almost called the match several times but when he went to check on the Undertaker, he was put in Hell's Gate. Triple H saved HBK by hitting Undertaker with a sledge hammer again but HBK rolled out of the ring. Undertaker got up and look to Tombstone Triple H but Triple H countered and pushed Undertaker into a Sweet Chin Music from HBK to a Pedigree from Triple H! I actually thought the match was over but Undertaker kicked out! Undertaker then finally beat Triple H down until he could barely stand up. Triple H gave him a crotch chop then Undertaker hit him with the sledge hammer and gave him a Tombstone for the win. After the match, all three superstars help each other out of the ring as the era was over.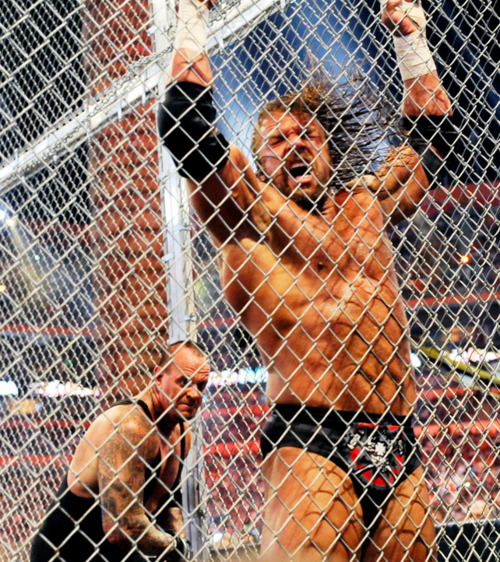 1. Undertaker vs Mankind – King of the Ring, 1998
Without a question, before anyone started reading this blog, you had to have known that this match was going to be number one! This is match is sole reason why the Hell in a Cell match is so damn popular today! Mankind put his body and life on the line in this match! This is probably the most violent and most brutal match in the history of the WWE. To watch Mankind get thrown from off the cell to the Spanish announce table was the most unbelievable thing I have ever seen in pro wrestling! And to hear J.R.'s call "Good God almighty they killed him! As God as my witness he is broken in half!" That call still gives me goose-bumps! Then to watch him get choke-slammed threw the cell to the ring below is the hardest part to watch. Mankind actually getting knocked out for a couple minutes from it. It still amazes me to this day that when he was choke-slammed threw the cell is what hurt Mankind the most and not the fall through the table! To kill time they had the Undertaker choke-slam Terry Funk right out of his shoes. But I will never forget the face of Mankind, when looks at the camera and looks like he is smiling only to find out that he bit a hole around his mouth and was just putting his tongue in place to feel where the hole was. Just when you think the match couldn't get any more violent, Mankind pulls out a bag of thumbtacks and pores them out to the king. They fight for awhile and Mankind gets the Mandible Claw on the Undertaker from behind. Undertaker then stands up with Mankind on his back and slams him down the tacks! Mankind starts to roll around on the tacks, screaming in pain. Undertaker then choke-slams him down the tacks! Then finally, the Undertaker Tombstones Mankind for the win. This match is easily a fan favorite for many of the Attitude Era fans like myself! To this day this match stands out in my mind as one the most brutal and violent matches in history of the WWE!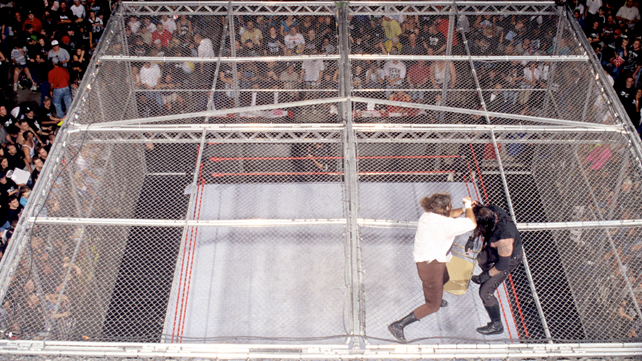 Thank you guys for reading I hope everyone enjoyed it! Please leave some comments and follow me on Twitter @The_RoyalRamble!!!!!! Thank you!
_____________________________________________________________________________
The Royal Ramble: How the WWE is dropping the ball!
10/22/2012

Before I begin, I wanted to say a few things concerning this blog. These are my personal opinions and everyone else is entitled to their opinion as well in the comment section below. I might say a few things during this that a lot of people probably won't agree with but to be quite honest, is that going to bother me? Hell no! Give me your thoughts at the end and let's spark a few things. Now let's RAMBLE…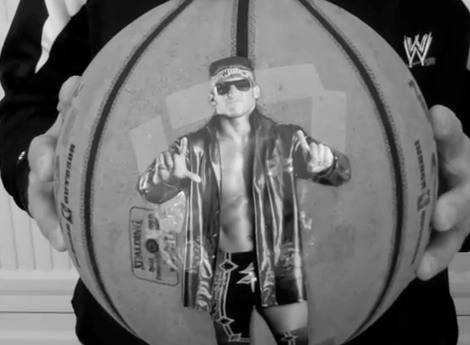 For the past few years now the WWE has gotten worse and worse but with a few brighter spots here and there. The thing is you can't blame the wrestlers of the WWE. You have to look closer into it. The creative team, Vince and Linda McMahon continue to just make the WWE look more and more terrible as the years go on. During this blog, I will go over certain points where I think the WWE has dropped the ball. I will also give my insight to what I would have done if I was writing for the WWE.
The creative staff in the WWE has lost their touch if you ask me. The past several years for feuds, angles, and story lines have been terrible. They have also buried several talents that could very well be top stars by now if the WWE didn't book them so badly. Drew McIntyre, Zack Ryder, Curt Hawkins, Tyson Kidd, & Jack Swagger. All of these men could have been top tier Mid-carders or World Champions (McIntyre & Swagger) by now. But the WWE continues to have them lose dumb matches on TV and continues to bury them and give them dumb gimmicks with close to little no personalities. They are so talented in the ring and the WWE continues not to use correctly. Kidd, Hawkins & Ryder should all have had an IC or US title run that can be looked at as them being a future star of the company by now but of course that hasn't happened yet. I've read that he was in line for a push in the coming future but I don't see it happening now. Swagger was once already a World Champion but they rushed that way too soon and look at his career since then. He is now jobbing to everyone he wrestles and nothing is looking like it's changing. McIntyre on the other hand is almost never on TV and he could easily be a top heel in the company. McIntyre needs to win the US title by like a surprise win in a fatal four way or triple threat match and have him get on the mic and have him declare that the future is back and have him roll with it! If the WWE will not give Ryder a title then he should go back and team up with Hawkins and they should win the tag titles. That would be so awesome if they got back together as a team.
The WWE has dropped the ball with many things in the past few years.
(This list in no particular order)
1. Not having Cody Rhodes wrestle Goldust at WrestleMania 28
This match could have stolen the show and the rivalry itself would have been amazing! Add Dusty to the mix and the angle is golden! They should have had Goldust challenge him for the title at Mania but then have Cody tell him to put his career on the line as well. Bring out Dusty to try and stop them from fighting and to have them become a family again but only to Cody blow them off. Setting up Dusty to be the ref at their match. This could have been such a great angle for the WWE but they dropped the ball and had Cody wrestle the Big Show…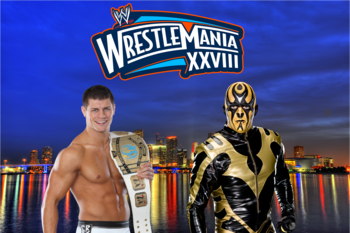 2. Dumb Feuds & Matches
Some of these feuds that the WWE is putting together are very dumb! Sheamus vs Del Rio has been terrible and they have had almost no chemistry at all. If Del Rio didn't have Ricardo or Otunga, the angle would have been pointless. Kane vs Ryder was also very dumb and it has pretty much ruined Ryder's career. But the Big Show vs John Cena for those few months were absolutely stupid considering we already saw their mediocre matches almost 9 years ago. Yet they still put them over Punk/Y2J?! Horrible! Big Show has been horrible in just about anything this year though. To me one of the dumbest things I've seen in recent years was Sheamus winning the World Title in 18 seconds at Mania! This makes no sense and was so pointless. They could have stolen the show that night but instead another dumb decision is made. Wouldn't it have made more sense if the Big Show beat Cody in 18 seconds?
3. Not Putting Punk in the Main Event & Turning him Heel
I don't know about some of you but this is just flat out stupid! I understand not having Punk not main eventing WrestleMania but Chamber, Extreme Rules (in Chicago), Over the Limit, No Way Out, & Money in the Bank! Having the Money in the Bank ladder match go on last at that PPV was terrible just because of how good the Punk/Kane/Bryan match was! Punk's matches have been the best on the show since WrestleMania 27! And because of not putting Punk in the main events, this makes your company's main title look weak and irrelevant. That's such a disgrace to the WWE and to Punk! If John Cena wasn't in every main event I bet he wouldn't be as hated on as he is now. In my eyes Punk is the new show stealer and just about every match he has been in on PPV has been a great match. Another thing I don't understand is the need to turn him heel when he changed his character to kind of this tweener like Stone Cold character and the crowds were eating it up and loved it! So why change it?! He could have been the next huge over the top wrestler the WWE had. Turning him heel kills the momentum to over the top amazing-ness and is showing that it's not working because the fans still continue to cheer for him.
4. Failing to meet the hype!
There have been three matches that come to mind when they have failed to meet the hype. Two of them include The Rock. Personally, I hate the whole wrestle one match every five months and you get the main event spot. Now don't get me wrong, I love the Rock and I think he has earned the right to come and go whenever he pleases but in doing that the WWE has to learn how to use it right. For example, they should have held off on announcing when the Rock will wrestle for title at least until after the TLC PPV. Now knowing this kills the suspense and we all know that Punk or Cena will have the title until the Rumble. If anyone else wrestles for the title in between now and then we will know the outcome no matter what. Well we all know the Rock will win the title at the Rumble but I really hope they don't have a rematch between Cena and Rock at Mania. The main event for WrestleMania 29 should be Rock/Cena/Punk for the title and they should pull the absolute shocker and have Punk win the match or have Stone Cold screw over Punk, thus setting up WrestleMania 30! But back to the whole failing to meet the hype thing, matches with the Rock and Cena need to have a bunch of near falls like how Cena/Punk did at Night of Champions. To be honest every match should have a lot of near falls because that's almost what makes every great wrestling match…great. Brock Lesnar on the other hand if his next match isn't good, I wouldn't mind seeing gone from the WWE for good. The fact that this guy can just come and go when he pleases is appalling to say the least and shows that he pretty much has the WWE by the balls. The WWE needs to stop doing the wrestle one match every five months thing because it's getting old and the matches almost never live up to the hype.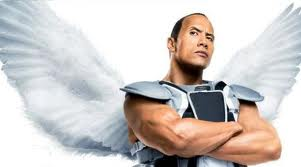 5. No Character Development or No Face/Heel Turns
OK, CM Punk is the only person they have turned recently and it was a horrible decision! If anyone needs to turn heel it needs to be Randy Orton. Orton is so much better has the villain in so many ways. He could probably work very well as a tweener also but creative does not know how to use them (Punk). Other wrestlers that need to turn heel are Triple H, Jerry Lawler, Zack Ryder & of course John Cena. Cena I don't think I have to go into much detail just because his heel turn is long overdue but they should wait until WrestleMania to do it. Lawler needs to go heel one last time. He's too entertaining not to be a heel! His face announcing is almost becoming annoying at times and looks very weak and whiny. If he turned back to a heel it would be so entertaining but with the PG thing going that might be hard to do. Triple H is just so much better as heel just like Orton. Triple H may go down in history as one of the all-time greatest heels to ever wrestle. Zack Ryder needs to turn heel to save his career! If he wants to be taken seriously he needs to drop the LI gimmick. Ryder is a great performer and if he turned heel we could possibly see a future star rise. As for wrestlers that need to turn face/tweener the only one I can really think of is Punk. I'm telling you guys Punk as a tweener would be amazing TV and would get people talking!
And now for my last point… Probably one that is pretty controversial to say the least.
6. Linda McMahon & the PG Era
Linda McMahon is ruining the WWE and might end up destroying it. The WWE recently removed all dated and edger content (Attitude Era). So you're telling me that the era that made the WWE so popular and made them for what they are today, is just going to be non-existent?! That's such a slap in the face to guys like Stone Cold, The Rock, DX, Undertaker, Mick Foley, Kane, Edge, etc. I'm sorry guys but the PG era is ruining wrestling! You can't say some words that me I get but it's just so much more believable to use cuss words. For example, if you're about to get into a fight, you're not going to go up to someone and go "I'm going to kick your butt man." NO you are going to get into a heated argument filled with words that's a no no in the PG era. As much as I liked the sexual stuff with the divas I can live without it. But to take away the blood is stupid! Blood has been a part of pro wrestling since day one. Blood can easily make a rivalry so much better and so much more intense. They don't have to bleed in every match but sometimes would not hurt! But the WWE removing Attitude era content is such a disgrace to the company and we have no one else to thank but Linda McMahon! Everyone has wondered why the PG era is still around and this just proves that it is in fact her. She cannot win the election! If she does I fear we will be watching a PG era for a long time or the WWE will go under because they will lose viewers in the long run. Let's face it; it has gotten way to childish and boring. I feel like I'm watching the WWE from 1985-1995 again! The overrated were the face (Hogan-Cena) and the best were not used right or were second best (HBK-Punk). The WWE needs to change things if they want RAW to make it 2000.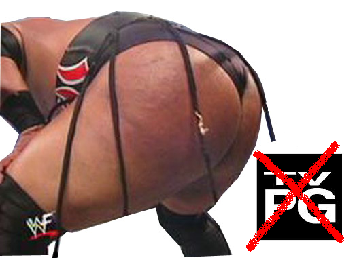 All in all the WWE needs to change multiple things in order to be the company it once was. They need to stop worrying about Linda's senate run and start worrying more about their own problems. They also need to stop with all the internet content, specifically Tout! Less poppy songs for their PPVs and more songs with attitude again. In the end the main fix is the creative team! They just need to original, controversial at times and just plain creative. If I was able to write for the WWE, I promise you…the power of the WWE would be back! Thanks for reading! Please follow me on Twitter @The_RoyalRamble, follow my boys @MarkinOut and an official Royal Ramble website is coming soon! Thanks again guys!
 _____________________________________________________________________________
7 WWE/TNA Crossover Dream Matches
Written by: Shelly Montgomery (@RatedRPeep)
10/22/2012

I am not a fan currently of TNA, so when making this list I thought of the TNA wrestlers I actually want to watch and paired them with WWE superstars that I thought best suited them. I paired them on similar abilities, but mostly just because these are the matches I personally would enjoy watching.
1. Daniel Bryan vs. Kurt Angle
When I decided to make this list, Daniel Bryan versus Kurt Angle was the first match that came to mind. This is also the match that I would most want to see. These two are the best technical wrestlers in their companies and are both submission specialists. I believe these two could put on a clinic on counter and chain wrestling.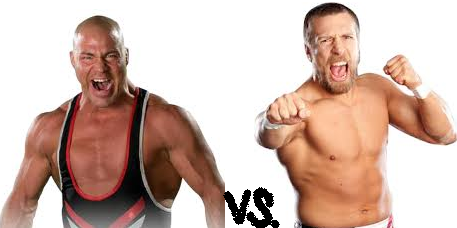 2. CM Punk vs. Rob Van Dam
The story for this match practically writes itself, as long as it does not completely rip off CM Punk versus Jeff Hardy. Straight edge taking on the poster boy for marijuana. Both men have proven to be rebels throughout their careers. This would be a high-impact match with some creative spots that would be very entertaining.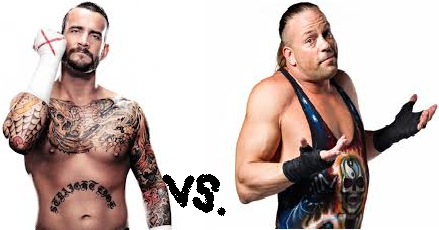 3. Tyson Kidd vs. Christopher Daniels
Tyson Kidd and Christopher Daniels are both amazingly talented wrestlers, but neither are very charismatic. WWE seems unsure about the best spot for Tyson Kidd. Christopher Daniels has never been able to really connect with the fans. Both always put on great matches, no matter who they are facing. This match would be what the cruiserweights and X-Division used to be all about.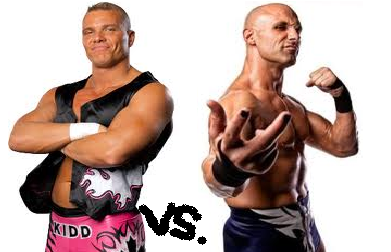 4. Christian vs. Austin Aries
I wanted to find Christian someone he never faced while in TNA and Austin Aries was the perfect fit. These are two of the most charismatic wrestlers in the business. It can be argued that neither has ever had a bad match. I feel both can wrestle any style and their matches are always entertaining. I believe the crowd for this match would be insane because both men have the ability to draw fans in and keep them on the edge of their seats.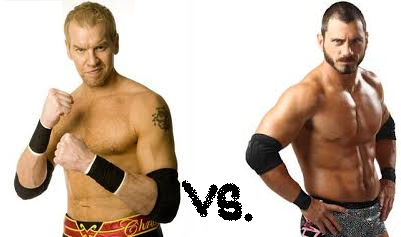 5.  Dolph Ziggler vs. AJ Styles
Ziggler and AJ Styles is the only pairing I have with two younger guys. I had many opponents listed for both of these wrestlers, but this seemed to be the best pairing for them. They are possibly the two most athletic wrestlers in their companies and this match on any card would steal the show. Even though both these men have been around for a while and have accomplished a lot, I feel the best is yet to come.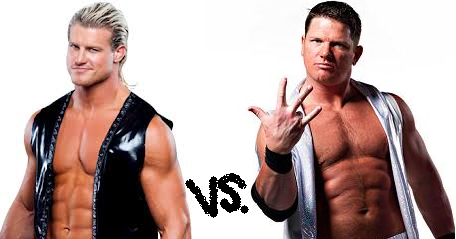 6. Sheamus vs. Bully Ray
Both Sheamus and Bully Ray are extremely physical wrestlers. Both of these men are a throwback to the old territory style of wrestling and have proven to be top faces and heels. This match would be a brutal, old-fashioned brawl that could best be described as a "slobberknocker."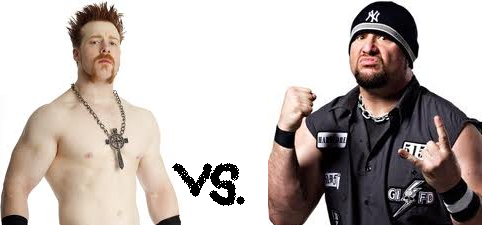 7. Brock Lesnar vs. Samoa Joe
As much as I love Samoa Joe, he was the hardest pairing for me. Originally, I had chosen Undertaker as his opponent, but the thought seemed so far-fetched that I changed it. Brock Lesnar won out because of the similar style. Both portray their badass characters better than anyone else in their companies. This match would take the term "ground and pound" to a whole other level.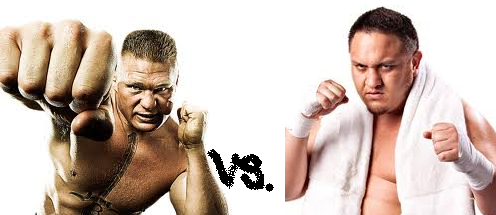 _________________________________________________________________